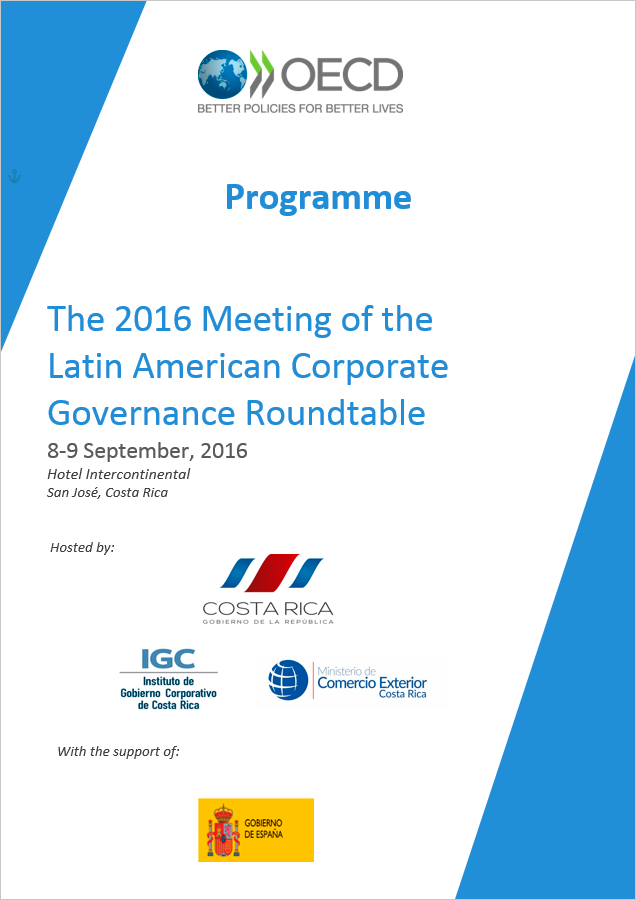 Contents
04 Overview
06 Agenda
11 Speakers
35 The OECD Secretariat
Overview
2016 meeting of the Latin American Roundtable on Corporate Governance
| | |
| --- | --- |
| Date | 8-9 September, 2016 |
| Venue | Intercontinental Hotel, San José, Costa Rica |
| Language | English and Spanish (Simultaneous interpretation provided in English-Spanish) |
| Hosted by | The Costa Rican Presidency, the Ministry of Foreign Trade of Costa Rica (COMEX) and the Costa Rican Institute of Corporate Governance |
| With support from | The government of Spain |
| Major Sponsors | Bolsa Nacional de Valores de Costa Rica, Diligent and Grupo Instituto Nacional de Seguros (INS) |
| Sponsors | Banco de Costa Rica (BCR), Florida Ice and Farm Company (FICO), Banco Nacional de Costa Rica, Deloitte Costa Rica and PricewaterhouseCoopers. |
Background and Objectives
This year's Roundtable meeting will focus on four key themes identified as a priority for corporate governance improvement in the region:
Global and Latin American experience with corporate governance codes and lessons learned;
Transparency and corporate governance of company groups;
Corporate governance and business integrity (breakout sessions dealing with the role of the board, cybersecurity and anti-corruption); and
SOE Reform: recent experience
The Roundtable aims to facilitate corporate governance improvements by providing a forum for the structured exchange of experience between senior policy-makers, regulators and market participants. Roundtable participants have come from Argentina, Brazil, Chile, Costa Rica, Colombia, Dominican Republic, Ecuador, El Salvador, Italy, Mexico, Nicaragua, Panama, Peru, Spain, Turkey, Uruguay, the United States and Venezuela. By convening the leading institutions and personalities that are involved in corporate governance reform in Latin America, the Roundtable provides an opportunity both to take stock and help set the agenda for further corporate governance improvements in the region.
Guidance for moderators, speakers, discussants and Roundtable participants
This year's Roundtable sessions will be structured to promote as interactive discussion as possible both among designated speakers and discussants, among all Roundtable participants.
Moderators are invited to encourage open discussion among all participants, to maintain the focus on the theme of their session and to be strict in managing time. The objective is to stimulate reflection and encourage an active exchange of views and experience. They will be asked to summarize key points and follow-up steps at the conclusion of the session.
Discussants will be invited to respond to moderator questions to discuss their subjects on an interactive basis, rather than making formal presentations. Use of Powerpoint is not recommended for discussants in order to allow more flexibility and time for wider discussion with all Roundtable participants.
For the break-out sessions, lead speakers are invited to provide a brief introduction to the topic and main issues of no longer than 10 minutes, based on the discussion papers distributed prior to the meeting. Moderators in these break-out sessions are invited to encourage open and inclusive discussions, and to serve as rapporteurs to present the conclusions of the discussions the next morning in the plenary. Roundtable participants are encouraged to actively participate in discussions to provide the Roundtable with their experience, as well as react, expose their views and discuss the issues raised by speakers.